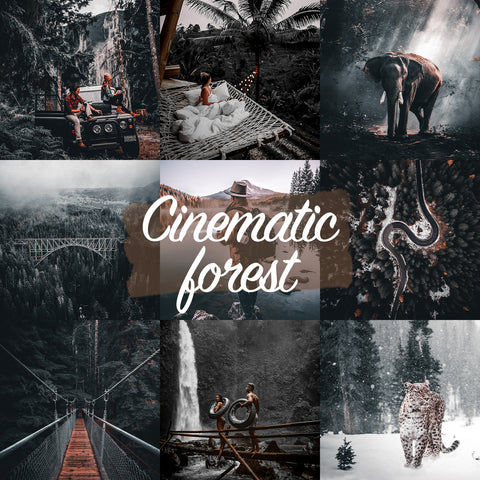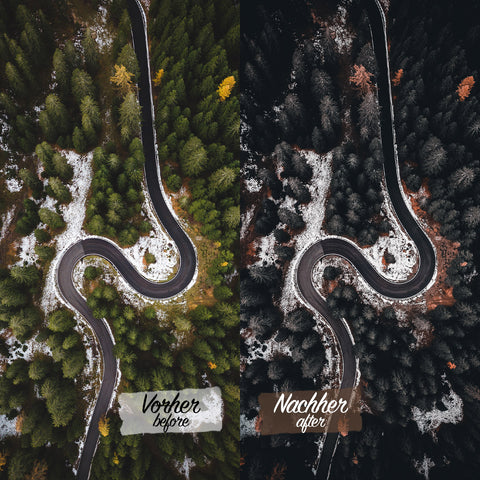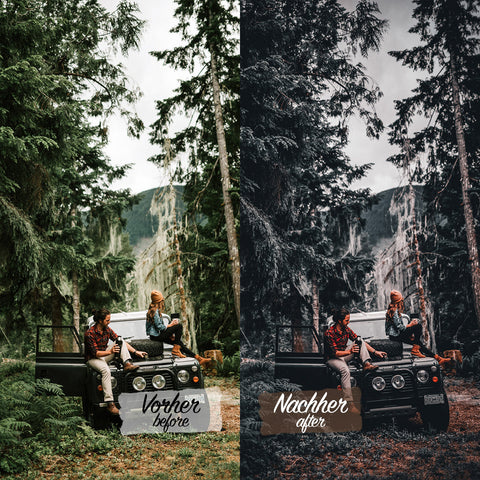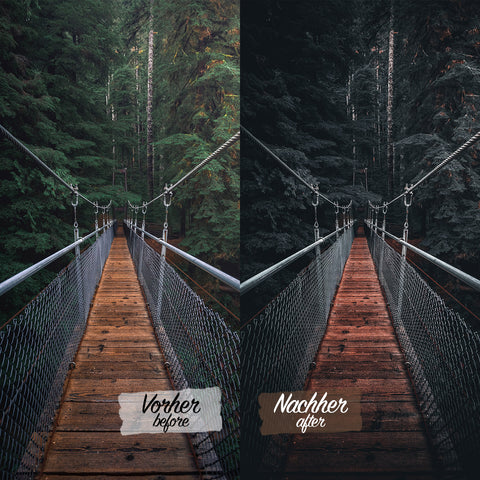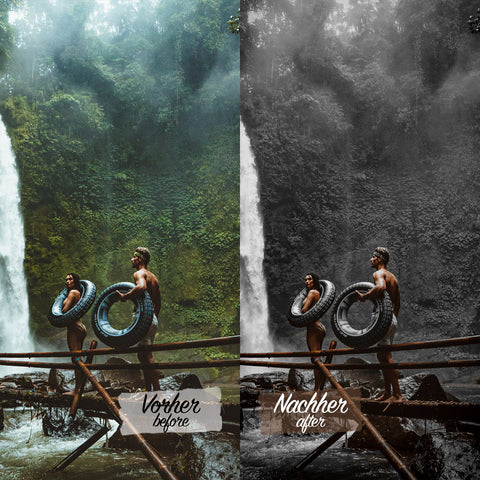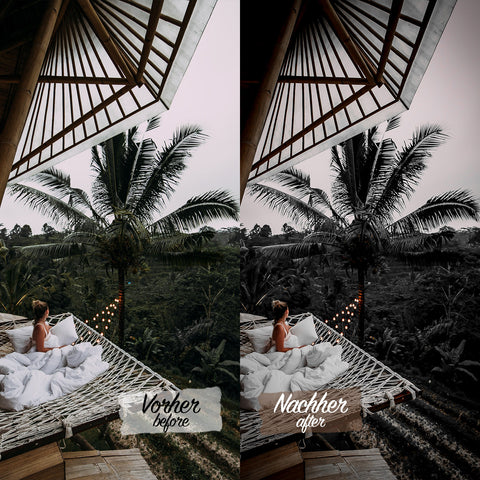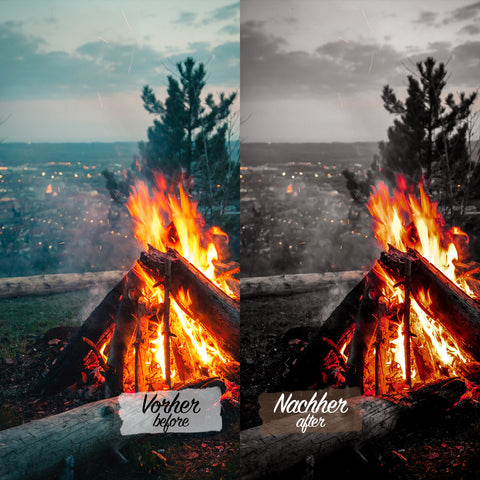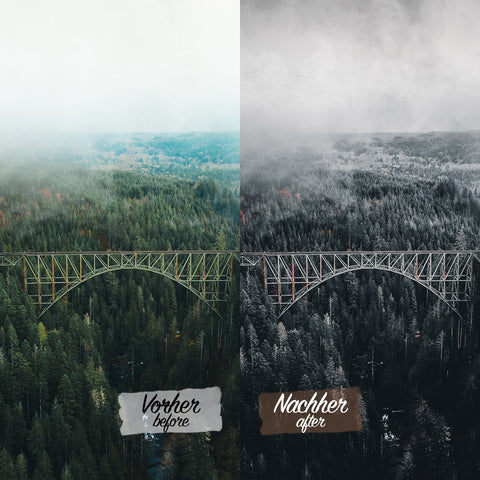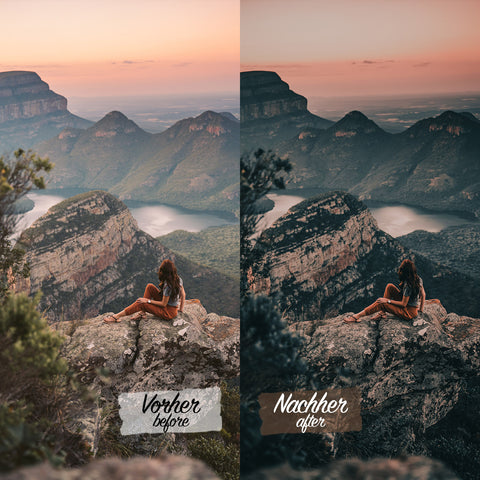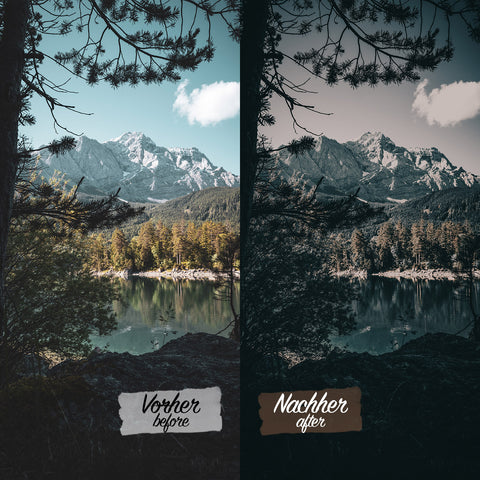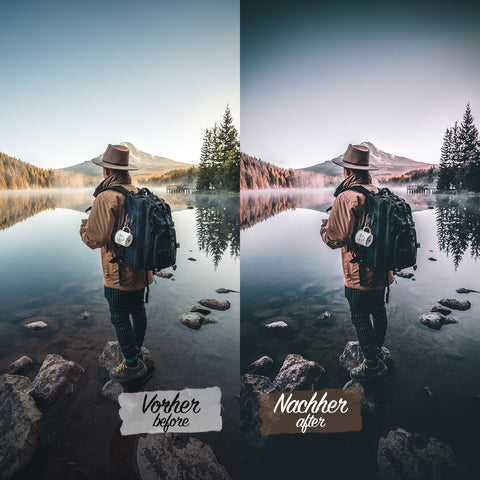 CINEMATIC FORREST Preset for Lightroom
Experience the forest or jungle in a whole new way with our "Cinematic Forrest" Lightroom presets! Designed specifically for adventurers and nature lovers, this collection of 10 unique presets will transform your photos from your journey through the forest into stunning, cinematic masterpieces.

Our presets are easy to use and can be quickly applied to your photos to give them that extra something. You can fully customize them and make your images exactly how you want them.
Discover the magic of our "Cinematic Forrest" Lightroom presets and be inspired by the beauty of nature! Check out our before and after pictures and see for yourself how our presets can turn your pics into stunning works of art. With just one click you can optimize the colors, contrasts and textures of your photos and create a cinematic atmosphere. Discover the beauty of the forest and autumn in a whole new way and let our presets inspire you!
What u get:
✓ 10 Lightroom presets
✓ Mobile version (.DNG), Desktop version (.XMP)
✓ Detailed Instructions (Online)
✓ Compatible from Lightroom Classic 7.3 + all CC versions & Lightroom Mobile
✓ Compatible with iOS & Android
$19.00
$28.00
you save $9.00
Best price of the last 30 days: 29.99 €. Lowest total price in the last 30 days before the price reduction. All prices incl. 19% VAT. Other countries may vary.
✔️ Live Support ✔️ Instant Download ✔️ Available 365 days

Why presets from Rollei Digital?
✔️ Developed by real professionals at Rollei: All Rollei Digital products were developed by real professional photographers.

✔️ 100% Perfect for Beginners: Our presets are easy to use. They're perfect for beginners and even pros looking for a quick and easy way to edit images on the go.
Benefits of Presets
✔️ Helps you create stunning photos with pleasing aesthetics.

✔️ Enhances any type of photo, regardless of shooting or lighting conditions.

✔️ Designed for Adobe Lightroom Desktop & Mobile as well as Photoshop.

✔️ Designed to work with RAW /JPG images.

✔️ No photo editing experience required.
installation Guide
Installing the presets is very easy. With the download you will receive a link to the detailed and illustrated documentation.
Download & Returns
After the purchase you will immediately receive a download link . You then have 365 days to download your files five times. Unfortunately, digital products cannot be returned . If you have problems with the installation or presets don't work, please write to us in the chat.
Deals via WhatsApp
Receive updates & deals straight to your smartphone. Click here or scan the QR code. For your first registration you will receive a 5 € discount code 🔥